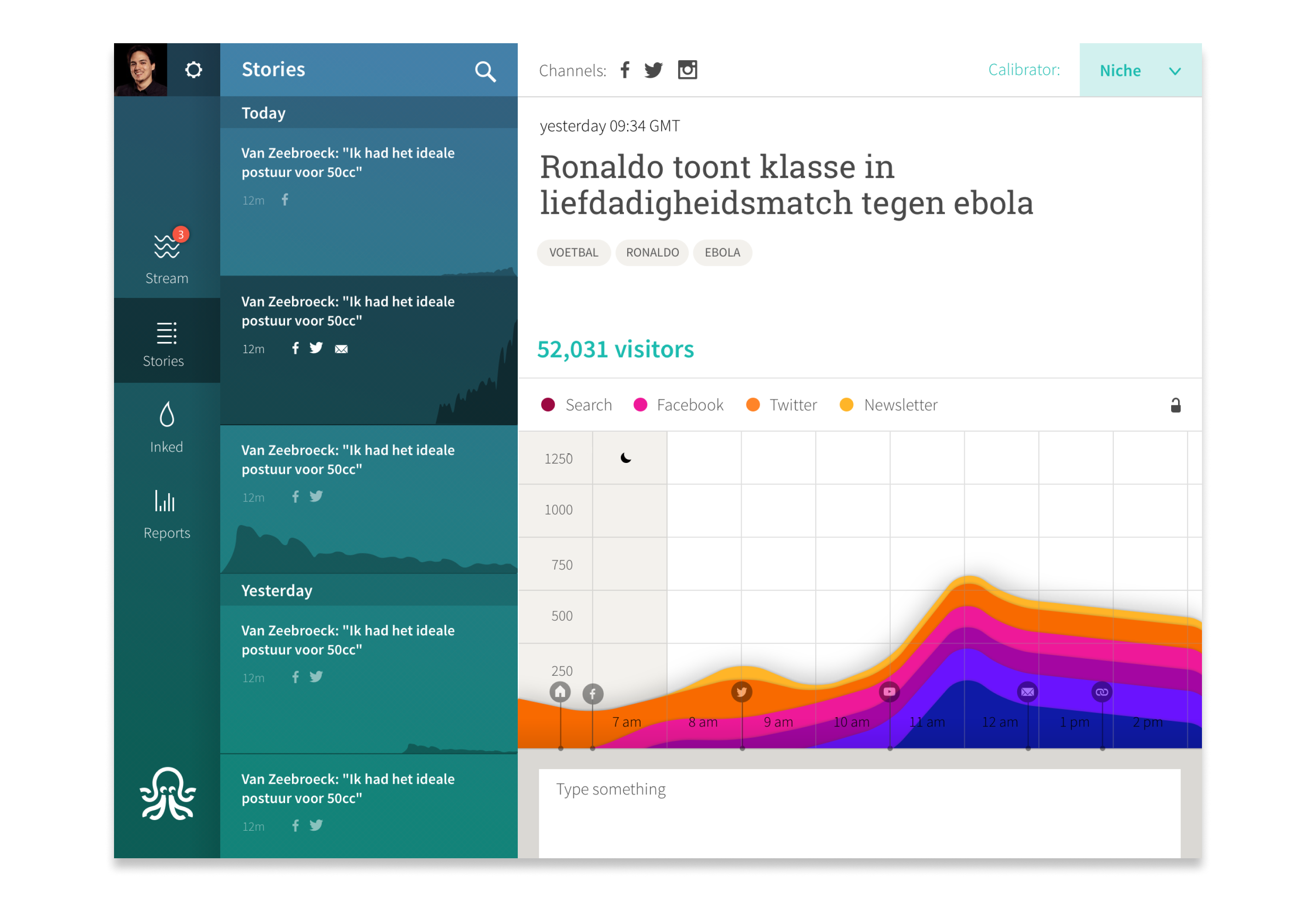 Real time analytics inform the storyteller based on multiple key metrics, like pageviews, engagement and conversion. Boosting journalistic models and online impact, allowing newsroom to grow their reader loyalty and optimise their content strategy.
Smartocto is a smart editorial analytics system. It's built with and designed for newsrooms, storytellers and other content creators. The mission of CleverLions is to make online content more relevant, impactful and profitable, using data-driven insights to connect the dots between you and your audience. It's analytics made easy.
SmartOcto is all about making content fly. Using smart data analytics, SmartOcto analyzes and calculates the optimal scenario for each content story, considering the various content channels the editor uses. The tool provides real-time insights on the impact of stories and offers actionable recommendations to improve content performance. Major Dutch media outlets, including BNN-VARA, de VRT, De Persgroep, Heijmans, and SBS, quickly adopted SmartOcto. My role in the project was to develop the concept from a user perspective and integrate it into the scrum process.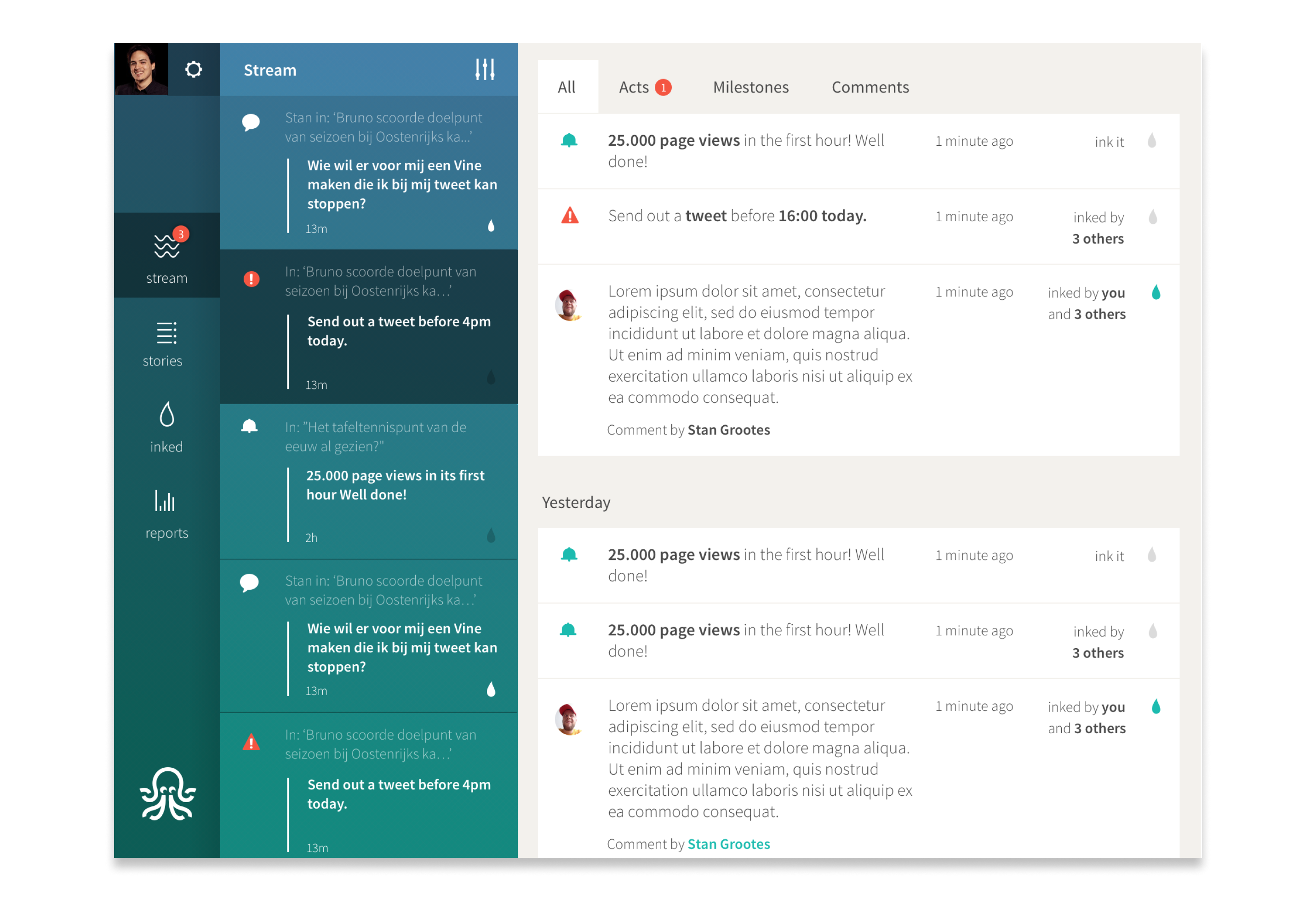 There were no existing tools to lean on, allowing us designers to bring together UX patterns that combine the quirky CleverLions tone-of-voice with clear informative data setups.
A Virtual Colleague with Actionable Insights
The core objective of SmartOcto was to provide editors and content marketeers with a virtual colleague that kept them updated on the impact of their stories while offering valuable tips and tricks. In designing the user interface and interactions from scratch, the team was able to deliver integrated, insightful, and actionable insights. This involved creating intuitive dashboards, visualizing data effectively, and developing features that guided users towards optimizing their content strategies.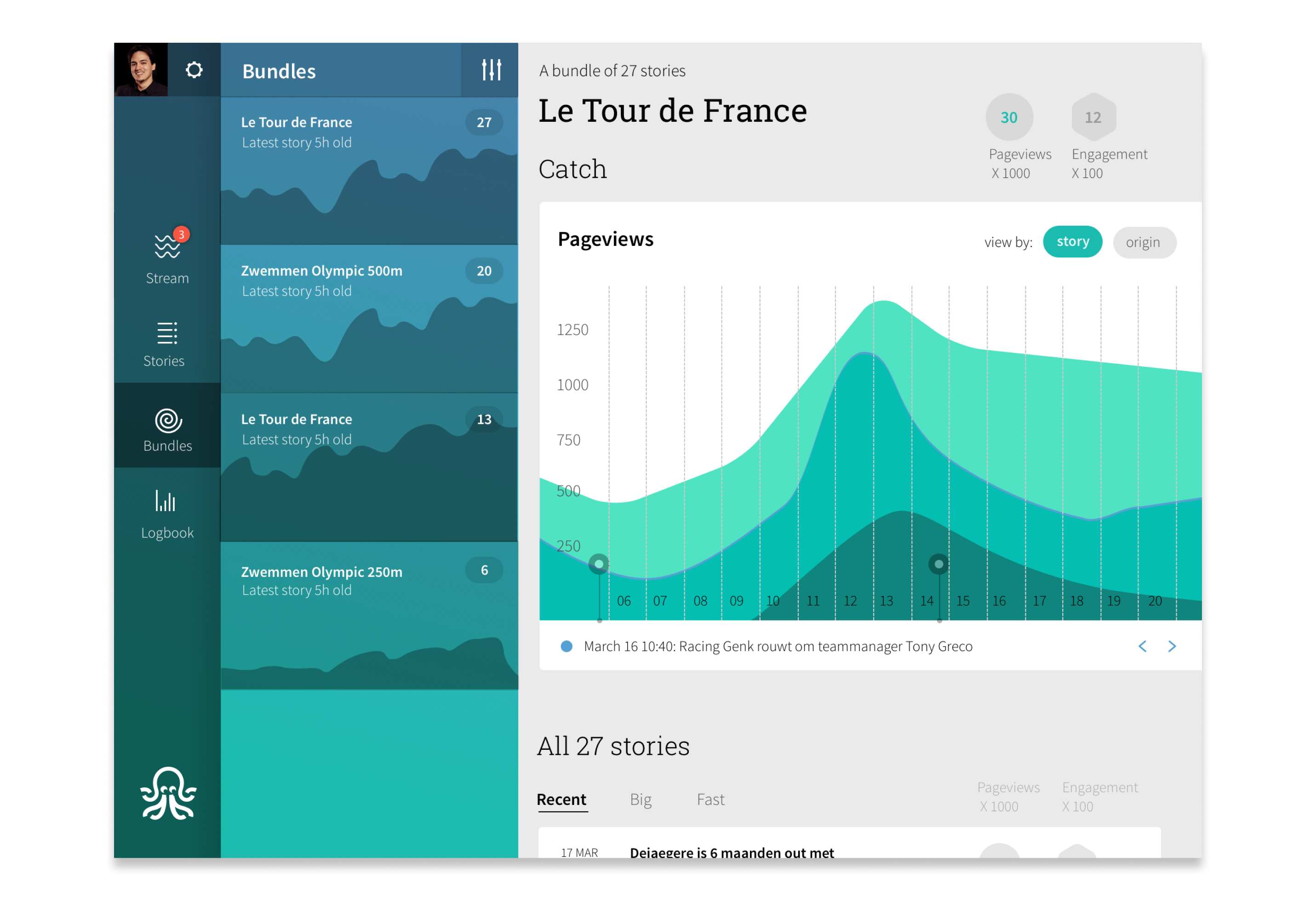 Creating informational hierachy based on user role we created bundles, a pattern that combines data from multiple stories that share relevant traits for the content editor.
An Agile Approach
Recognizing the significance of user needs, I focused on understanding the pain points and challenges faced by editors and content marketeers. Through in-depth user interviews, we gained valuable insights into their workflows, goals, and expectations. To ensure the successful implementation of the user-centric concept, I worked closely with the development team within the scrum framework. As scrum master and main concept designer, I effectively translated user requirements into actionable user stories, ensuring that the development process remained aligned with the users' needs. This collaborative approach facilitated continuous feedback loops and allowed for iterative improvements based on user insights.