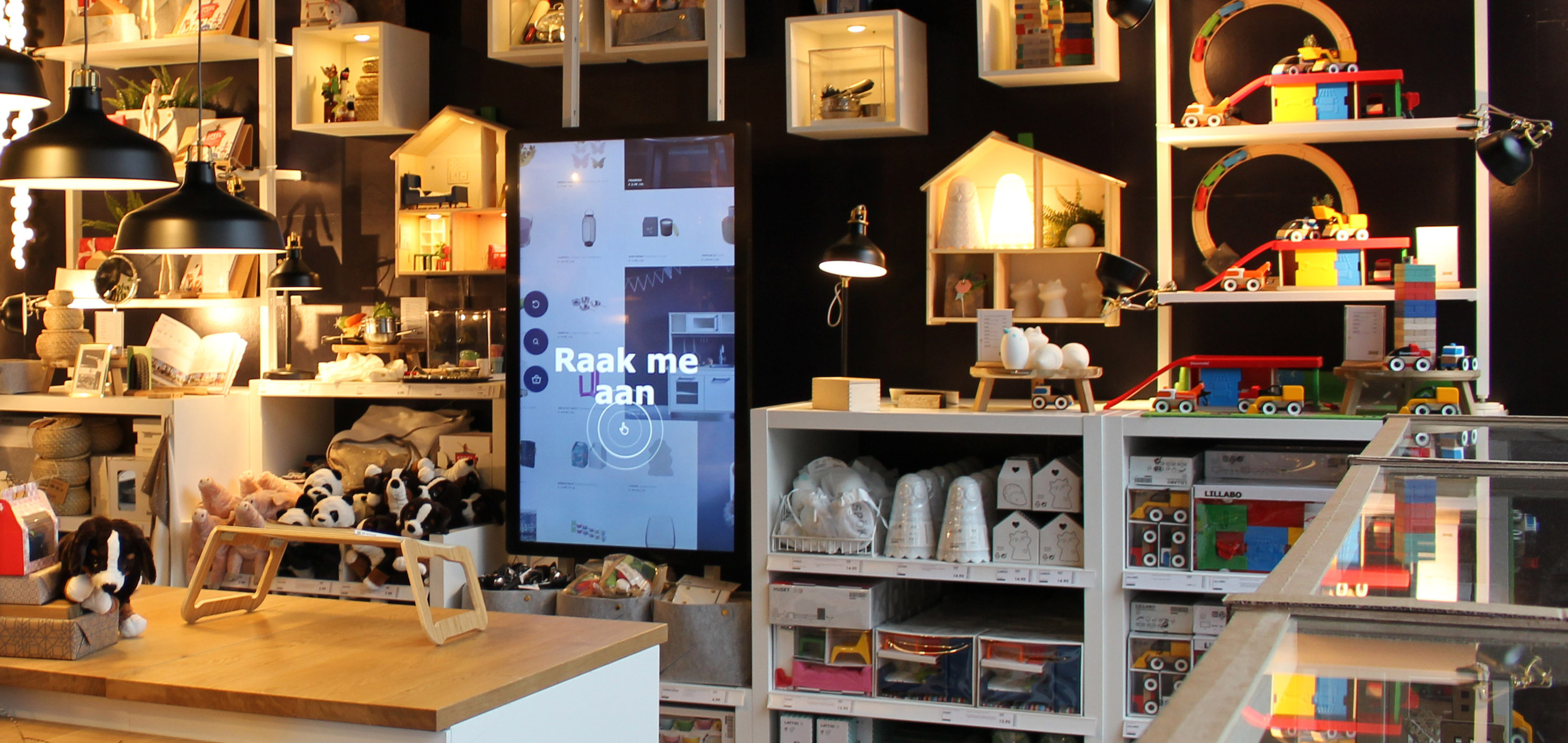 The pop-store experience enhanced by digital services.
IKEA asked Fabrique to develop an online shop for their physical, pop-up Gift shop in Utrecht, The Netherlands. As prime example of what a good digital product concept can do, this website also influenced the experience in the store.
Rapid design research
Where IKEA is well-known as leading home furnishing company for the many, it wasn't yet perceived as place to buy gifts. We needed a hook to build the digital experience around. During a 2-week design research phase, we conducted a segmentation of the consumer market and competitor analysis of gift shops in the Netherlands. We also created a variety of personas to empathize and create customer journeys around.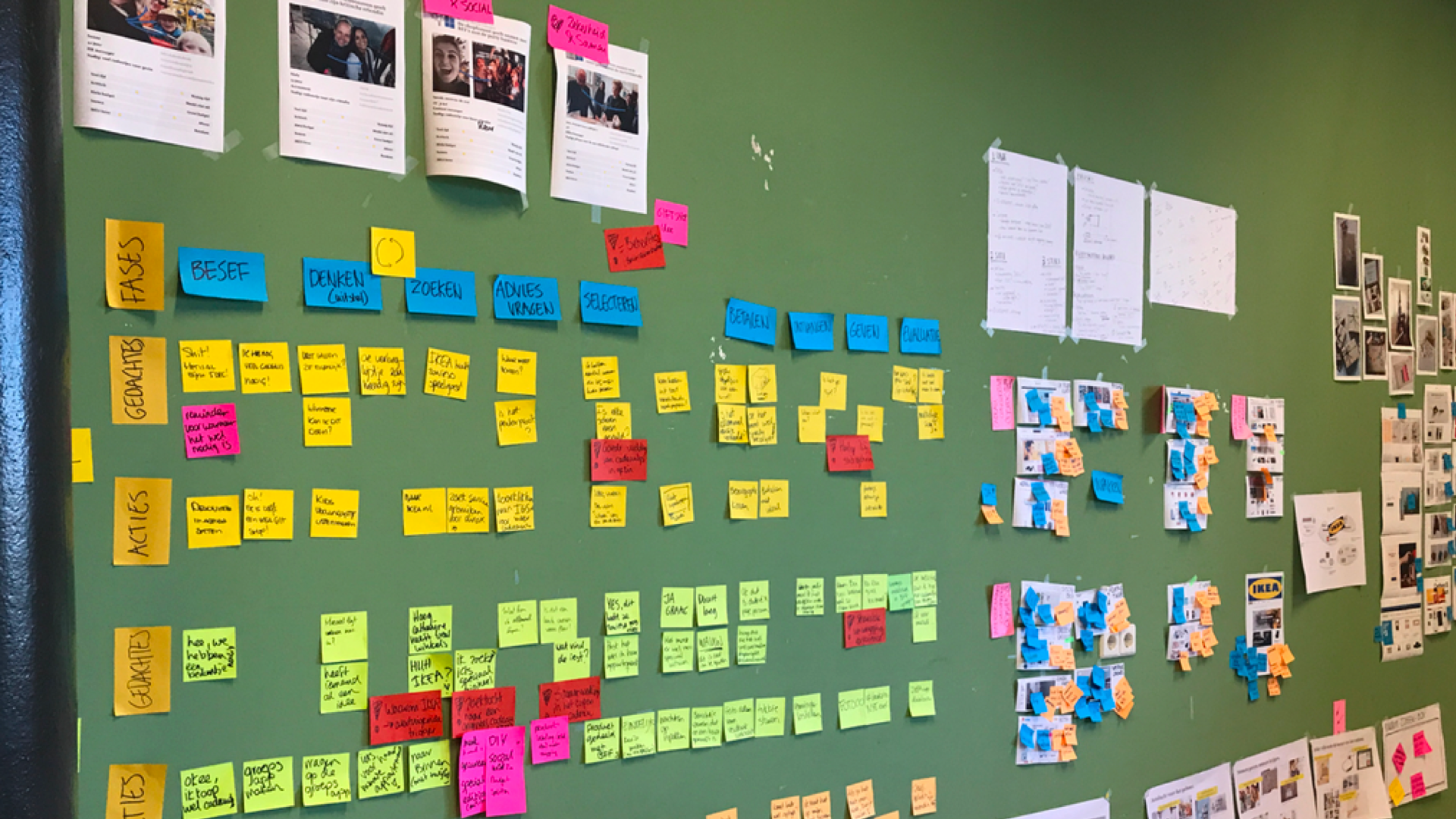 Adorning the war room with customer journeys and strategic analyses.
The strategic hook
During the project, IKEA's campaign was 'attention makes everything better'. We concluded that IKEA should emphasize on the gesture of giving presents, instead of the present itself: 'Attention for each other, makes everything better'. This hook allowed us to envision an (online) gift shop that helps customers create a special moment, personalise gifts with a video message or DIY wrapping. Even a small gesture can have a large impact.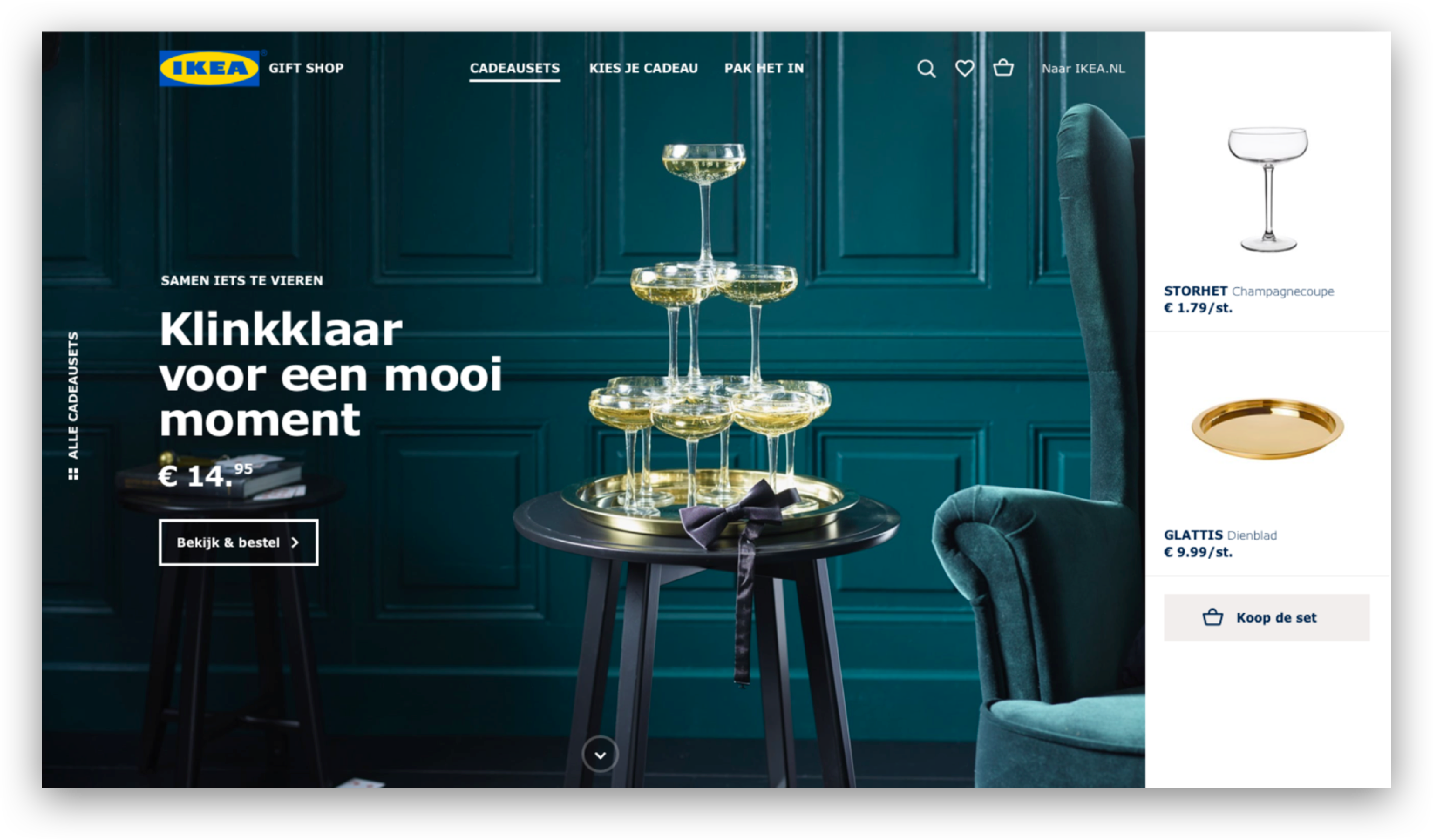 The homepage displaying gift sets only IKEA could offer.
Building the online gift shop
Created in 3, 2-week sprints, I led a team of strategists, designers and a copywriter in creating the website, which was developed by IKEA's partners. Inspired by the digital concept, we collaborated with IKEA to create product sets such as a Netflix binge set and a new year celebration set. The website accomodated these gift sets, singular products and a lot of DIY products to create your own sharing experience.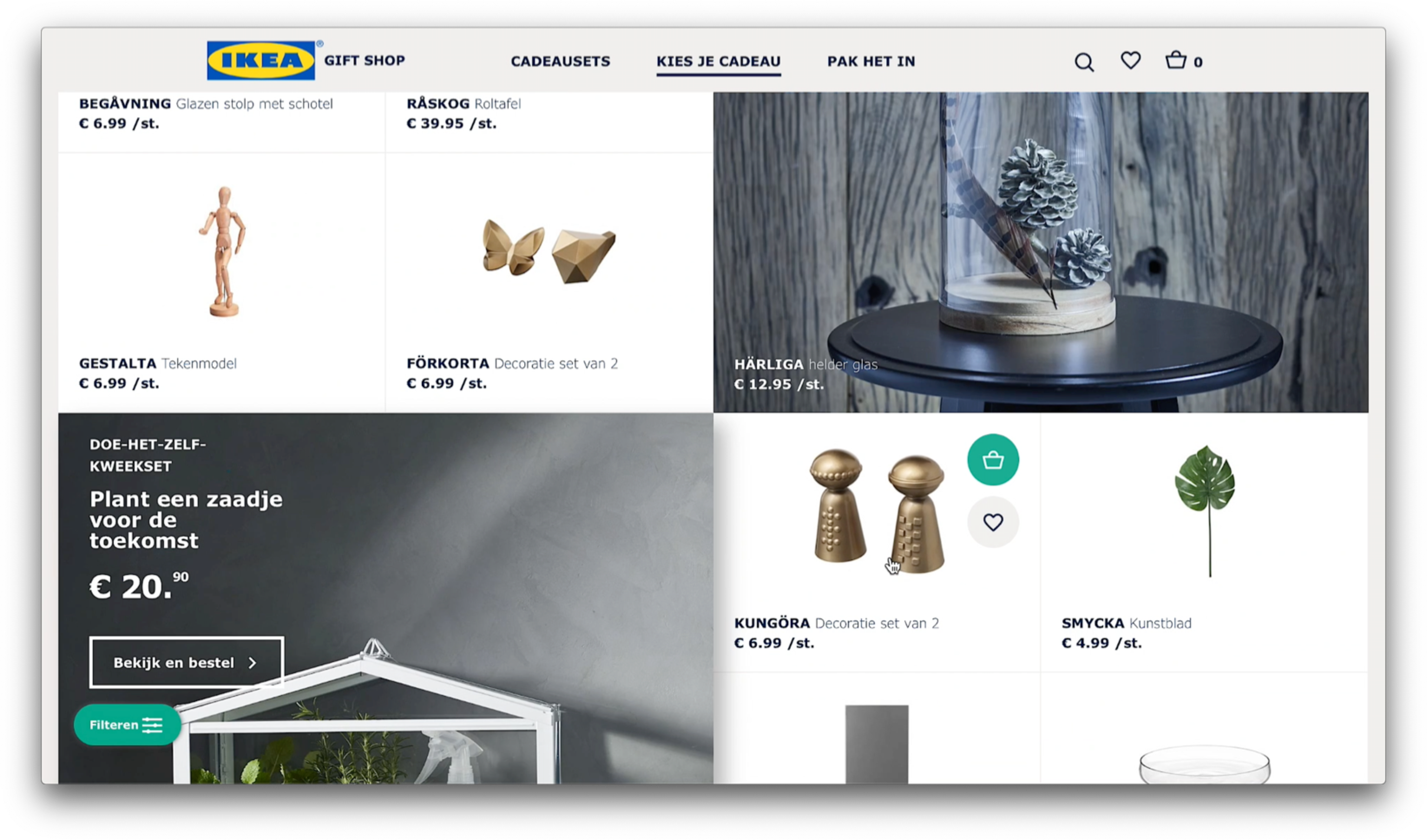 As a gift shop, the website offers sets and products customers can buy.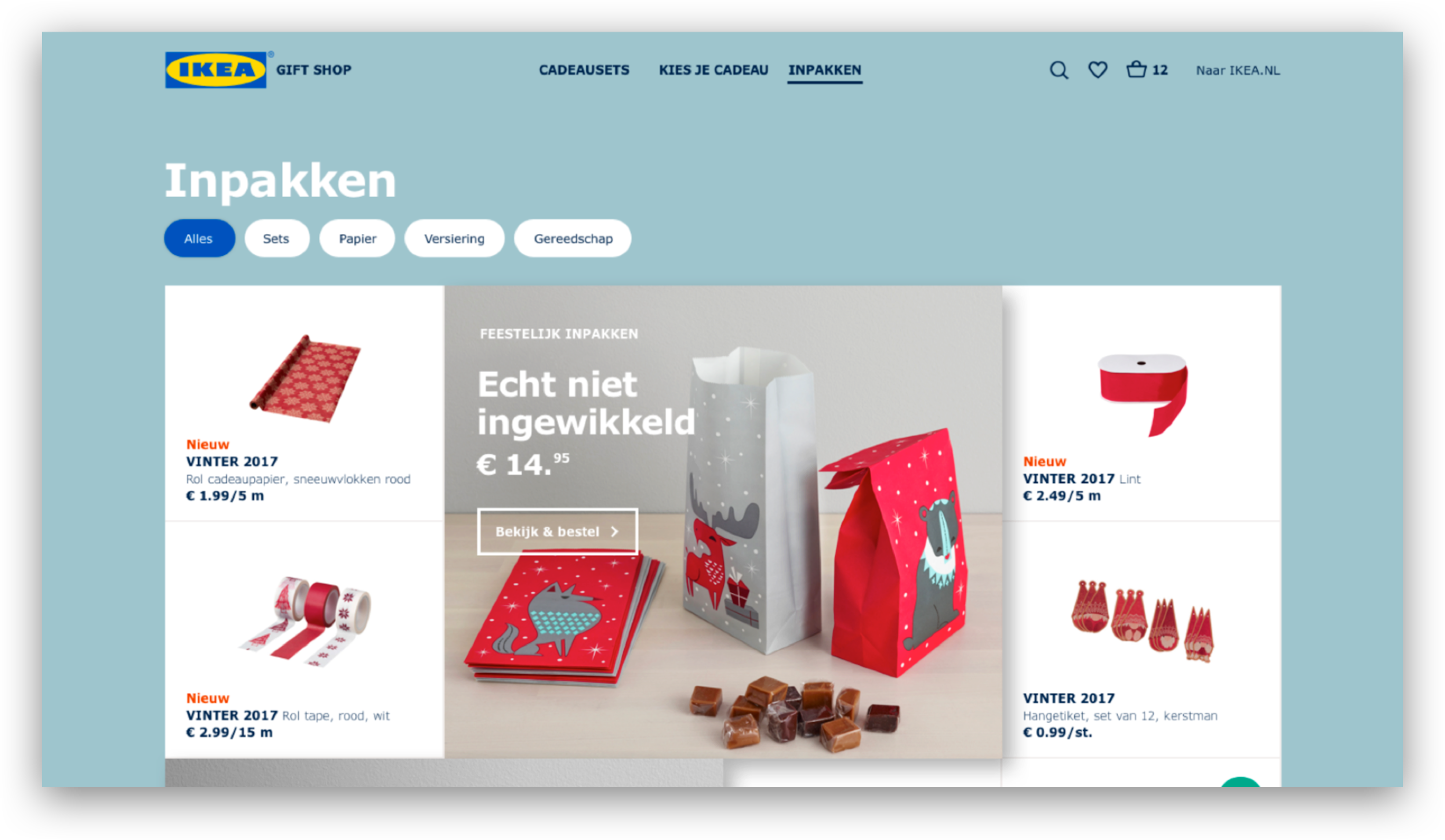 The wrapping section allows customer to add the material needed to make a personalised gift.
A consisten in-store experience
Fabrique also collaborated in 2 extra sprints to create in-store interactives based on the ideas of the research and concept phase, such as a video message booth, an endless aisle and screens with content that helped customers to get creative with the DIY products. For the latter phase, I primarily had an advisory role.